Aluminum foil can be found in almost every home kitchen, and it has multiple functions. Our food service foil rolls are packed in convenient cutter boxes, and we offer four different widths. For anytime, anywhere operation, we provide three pre-cut aluminum foil sizes!
Aluminum foil to meet all your needs
We provide standard aluminum foil and heavy aluminum foil, which will help you determine the type of aluminum foil that best suits your needs! Aluminum foil is often referred to using common terms such as "standard" and "heavy". These terms can also be measured in specifications (thickness) like plastic or metal sheets. Naturally, the thicker the specification, the heavier the aluminum foil roll, the more resistant to punctures and tears.

This is the approximate specification of our food service aluminum foil:

Alloy/temper : 8011 1235 / O
Thickness : 0.008mm-0.025mm
Width: 265mm 270mm 280mm 285mm 290mm 300mm 440mm 450mm 600mm
Specification: Jumbo roll


Standard Aluminum Foil & Food Service Aluminum Foil

Standard aluminum foil is an economical choice for your kitchen and is suitable for many applications. It is the most common food service aluminum foil and can be used as an excellent general solution for most kitchen food packaging. We even attach standard non-stick aluminum foil, which is perfect for melting cheese, wrapping meat on the grill and even your signature lasagna!

Food service aluminum foil Usually used for:
Packed baked potatoes
Wrapped sandwiches
Cover full size or half size stainless steel dinner plate (when the pot is not transported)
Covered half size aluminum foil steamer
Packed vegetables
Packed bread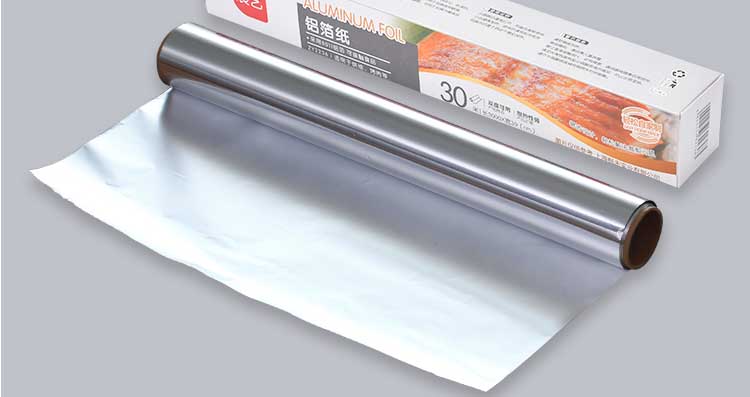 Heavy duty aluminum foil

Heavy duty aluminum foil has higher thickness and durability, and can withstand a lot of wear. Due to its high puncture resistance and tear resistance, it is the best covering for aluminum foil steamers because the pot will bend when it is carried.

Food service aluminum foil Usually used for:
Lined oven, covered grill and barbecue grate
Lined pot for baking, roasting and baking
Durable disposable lid
Covered stainless steel steamer for transportation
Cover the full size aluminum foil steam countertop pot (because the pot will bend)




Food service aluminum foil packaging



Is the time short? Our food service aluminum foil is available in three pre-cut sizes, saving you time and the hassle of unwinding and estimating the foil size. Use these foils to quickly wrap sandwiches, potatoes and more! They are ideal for packing hamburgers, hot dogs or sides in your small stall, fast food restaurant or snack bar.