Barbecue is the most primitive way of cooking for human beings. Whether it is in the famous Qiqihar or throughout Asia or Europe, barbecue is very popular. As everyone knows, tin foil is used in home barbecues. Wrapping or covering food with tin foil can make food evenly heated, maintain a fresh taste, and also facilitate the cleaning of baking pans.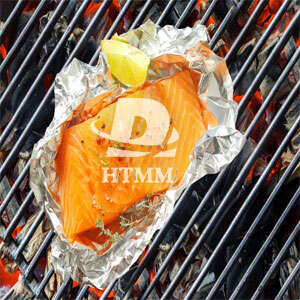 So which side faces the food when grilling on

aluminum foil

? If we look closely, we can see that the aluminum foil is brighter on one side and darker on the other. The bright side is called the light-sensitive side, and the darker side is called the matte side. Generally, the matte side is easier to absorb heat. Therefore, the matte side should be directed toward the light and heat to achieve the effect. For example: When grilling meat, the food should be wrapped in the smooth surface of tin foil, and the meat is easy to be cooked when facing the charcoal fire with fog. It will be cooler.

The aluminum foil used for grilling is

8011 household aluminum foil

with a thickness of 0.008-0.025mm. As a large modern integrated enterprise, HTMM is committed to deep processing of aluminum foil. The thickness of aluminum foil produced by our company is uniform, shiny, in line with sanitary standards, food grade, welcome to come to consult!