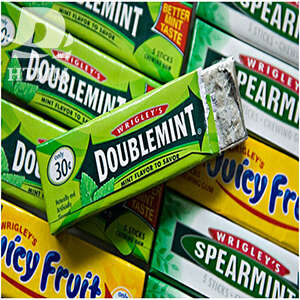 As we all know, chewing gum is a kind of snack that many people have eaten, especially after eating one, it can effectively improve the oral environment and keep the breath fresh. At the same time, it can also stick down foreign objects on the teeth to keep them clean. Have you ever noticed the outer packaging of gum? The outer packaging of chewing gum is usually silver paper packaging with jagged edges. In fact, this silver packaging contains1235 aluminum foil, which is an important material.

Why is chewing gum used for packaging aluminum foil paper? First, aluminum foil paper is a metal that can conduct electricity, that is, metal aluminum, and is not really "paper". Because it is aluminum, its texture is soft, ductile and easy to tear. The tin foil has a very good finish and heat reflectivity. With the protection of the tin foil, the taste of the gum will not be affected by external stimuli. More importantly, it will not be changed by the air and the environment. Sugars don't spoil, making them last longer! There are also thermal and aesthetic factors in it. It doesn't melt easily even in your hand, so there is a layer of 1235 aluminum foil inside the gum.

HTMM Aluminum Foil Co., Ltd. is a leading company engaged in the research, development, production and sales of aluminum foil and aluminum foil related products. Production of aluminum foil suitable for many purposes, the company's products are exported to many countries and regions, and enjoys a good reputation in the international market for its quality services and quality products.