Xinhua News Agency reported that at the time of the introduction of the "plastic limit order", take-out lunch boxes made of non-degradable plastics had become a new source of plastic waste pollution. China has become the country with the largest sales of food and beverage delivery in the world. But most people didn't expect that although takeaway has greatly facilitated themselves, it also brought a lot of pressure on the ecological environment. It takes an average of one hour for a plastic lunch box, and degradation takes hundreds of years. According to the data released by Meituan.com's official website, the daily order volume of Meituan can reach 12 million. If at least one plastic bag and one plastic lunch box are consumed per order, at least 24 million plastic products are consumed every day. Among them, other plastic products such as straws and spoons have not been counted.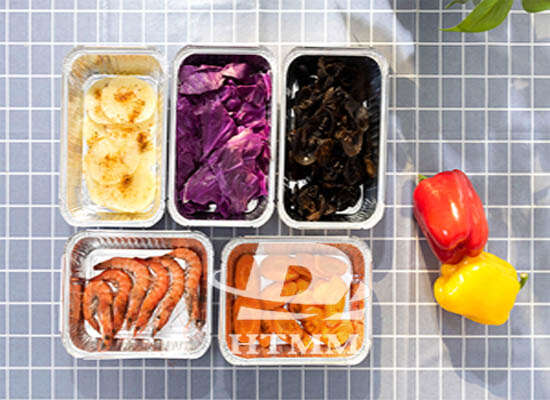 Takeaway apps "Hungry?" Released big data on Chinese takeaway forecasts that by 2020, China's Internet payment population will exceed 750 million. Takeaway penetration is around 80%, which means that 600 million people will become online takeaway users. Without effective environmental protection management measures for outer plastic packaging, it will bring a lot of pressure on the environment.

The aluminum foil material has outstanding barrier properties. Under the premise that the thickness of the aluminum foil is sufficient, it can basically completely block the gas and moisture, and the aluminum foil material is light, tight and wrapped, which can play a role in keeping food to a certain extent. The most important point is that used lunch boxes can be recycled and reused, which reduces pollution and saves resources, which is a good choice.

Aluminum foil has many advantages as a lunch box and catering container, including: green environmental protection, high and low temperature resistance, safety and health, good sealing, strong thermal insulation, energy saving and so on. At present, the use of aluminum foil containers is very common abroad, and in China, in addition to aviation meal boxes, in recent years has also begun to promote the use of residents in daily life. Relevant companies' market development and research examples also show that aluminum foil fast food is fully adapted to China's national conditions, can fully enter the catering and take-out industry, can also be used in households, and can replace plastic boxes and paper meal boxes in large quantities. It can be said that the application of aluminum foil lunch boxes and containers is to promote green consumption methods and protect food safety. An important choice for saving food and practicing the concept of sustainable development.


HTMM Aluminium Foil Company Supply Aluminium foil jumbo roll with good quality and service. We have 10 years of export experience, and the quality of aluminum foil has passed SGS / FDA inspection. If you have any inquiry aluminum foil. Please contact with us.
HENAN TENDELI METALLURGICAL MATERIALS CO.,LTD
Wesite: www.htmmalufoil.com
Email: [email protected]
Phone Number: 0086 15093966536(whatsapp/WeChat)