HTMM has extensive experience in the supply of aluminum foil rolls with a minimum thickness of 0.006 mm and a width of 1600 mm. The aluminum foil giant roll is rolled without roll seam rolling, and the roll is always in an elastic flat state. The thickness of the aluminum foil is controlled by adjusting the rolling force, the rolling speed and the control tension during the rolling process.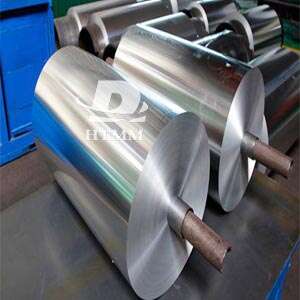 In the rough rolling, the thickness of the

aluminum foil

is controlled by the rolling force. When rolling, the thickness of the aluminum foil roll becomes thinner as the rolling speed increases, and the tension is larger, and the thickness is smaller. To prevent chipping, the tension is typically from 0.2 to 0.4 of the conditional yield strength of the aluminum foil roll material. In low speed rolling, "heavy oil" or "thin oil" is usually added to the lubricating oil to adjust the rolling thickness of the aluminum foil roll. The condition of the lubricant and the rolls has a major impact on the quality of the foil roll. The aluminum foil stock is from a cold rolled aluminum coil which is typically annealed at 340 to 480 ° C and has a thickness of 0.4 to 0.7 mm. The rolling deformation rate during rolling is about 50%, and the total deformation rate is over 95%. Rolls of

aluminum foil

having a thickness of less than 0.01 to 0.02 mm should be rolled and double rolled.