Sale home aluminum foil 8011 O in HTMM guarantees quality and fast production, saving you time and money. Household aluminum foils have outstanding advantages in barrier properties, moisture permeability, hygiene and safety, productivity, recyclability and environmental protection. Food grade aluminum foil packaging materials will become the trend of green safe packaging.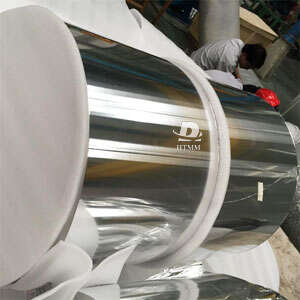 HTMM's

household aluminum foil 8011 O

undergoes strict pinhole inspection, degreasing process and plate control to achieve ultra-high sealing performance and perfectly protect the taste of the wrap. According to the practice of major food and pharmaceutical packaging materials manufacturers, household aluminum foil fully meets food grade requirements. For the supply of

8011 household aluminum foil large rolls

, HTMM has strict quality requirements, the surface of aluminum foil should be smooth, not allowed to corrode, wrinkle, blister, indentation, rib and opening defects. The dark side of the foil does not allow bright spots, bright lines, rolling eyes and uneven grease. The end faces of the aluminum foil should be neat, clean, burr-free, loose rolls, bumps and severe thin lines, arrows, and pattern defects.

Buy household aluminum foil 8011 O giant roll to process the final

household aluminum foil roll

, usually used for home baking or home barbecue. There are several advantages to using aluminum foil: one is to prevent food from sticking to the baking sheet and to clean the baking sheet. When seasoning food with seasoning, it can prevent the seasoning from falling. Third, it can prevent water loss and keep the food fresh and tender. Fourth, cover the aluminum foil when baking bread or cake to prevent the surface from being too dark. Allow the food to heat evenly and prevent burning.