Large rolls of aluminum foil are suitable for further processing into a few meters of kitchen foil packed in color boxes. Helps protect everyday food by protecting it from light, odor, moisture and bacteria during cooking and storage. This aluminum foil large roll material is suitable for many situations such as baking, freezing, baking, catering and other kitchen uses. In addition, it has excellent performance in microwave ovens.
Advantages of
aluminum foil large rolls
1. Strong plasticity: Aluminum foil roll has good plasticity and can be used to package food of various shapes. You can also create containers of any shape.
2. Corrosion resistance: The
aluminum foil rolls
itself is not volatile, and the food it packages will never dry out or shrink.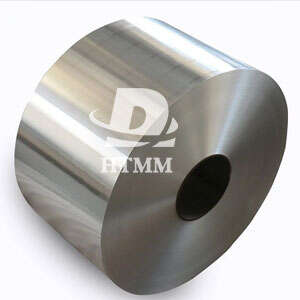 3. Thermal conductivity: Aluminum foil jumbo roll has good thermal conductivity, so it is widely used in barbecues, ovens, etc.
4. Packaging material: Aluminum foil large rolls is a light-proof packaging material, so it is a good packaging material for products exposed to the sun. It is also a non-toxic packaging material that can be in direct contact with food without harming human health.
5, wooden box packing: wooden cargo container, sturdy and safe to transport.
6. Hygiene: The surface of the aluminum foil is very clean and hygienic, and no bacteria or microorganisms grow on its surface.
HTMM has rich export experience in
large Aluminium foil rolls
. We have exported to Italy, Belgium, Colombia, Vietnam, Albania, Tunisia, Chile, Russia, Middle East, etc. With advanced equipment, excellent quality management and first-class work team, we can provide customers with high-quality aluminum foil and the best service. We look forward to establishing long-term business relationships with our customers.