HTMM aluminum foil is the best foil solution available that is durable, easy to shape and perfect for kitchen cooking. This foil package uses food grade foil, which is very practical and durable. It meets many food safety requirements and is safe for our body. Ensure your health and safety by preserving the flavor of your food.

The role of aluminum foil will bring versatility to our kitchen and bring us great cost performance. It can be used for grilling, boiling and in the oven. Our Food aluminum foil in roll is of the highest quality. Thick aluminum foil is resistant to high temperatures, not easy to break, effectively prevents oil stains, easy to clean and reduces cleaning problems.

Non-stick aluminum foil is easy to remove, suitable for event catering. Feel free to cut aluminum foil into foil sizes. We will reply to you within 24 hours, please contact us anytime if necessary. Looking forward to your visit.



Features of food aluminum foil in rolls:
1. Good conductivity. It heats food, cooks it and even makes it rise better.
2. Clean, single use.
3. Environmental protection, can be recycled and reused. Take care of the concept of rational use of resources worldwide and preserve the global environment.
4. Green packaging, safe for creatures. No harmful substances will be released, use with confidence.
Aluminum foil paper can make your establishment (store) more hygienic, cook tasty food and improve image and grade in the hearts of customers. It's cost-effective and the ideal choice for you!

Aluminum foil for the food category is becoming more popular in the packaging industry and its benefits are integral. Clean surfaces with food grade soft tempered aluminum foil jumbo rolls, healthy green transparent and non-toxic packaging materials; does not react with any food; The effect of shade is good, and light as the sun is avoided, and there is no penetration of high temperature and low temperature.

Compared to other foils, food grade foil has a higher thickness. It is a durable aluminum foil. It can withstand wear and tear. Its high tear and puncture resistance makes it the best covering for foil steamer table pans, as the pans will bend when caught. Heavy-Duty Grill Potato Foil is a strong, thick foil that is perfect for grilling that requires superior performance. Heavy Duty can easily handle hearty meals as well. Commercial grade aluminum foil is best for lining baking pans, grilling meats, and protecting against extreme heat or cold.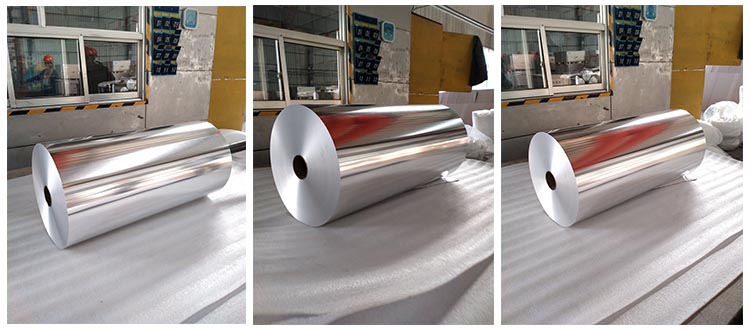 You can wrap leftovers in heavy-duty foil to keep them fresh. Heavier aluminum foil paper is characterized by higher tensile strength and resilience. This is why it is suitable for extreme home use. Commercial potato foil rolls also provide better coverage and heat retention. By withstanding high heat and better coverage, foil rolls help lock in flavor and keep food moist.
Heavy duty food grade aluminum foil is clean and food safe. They have passed all the tests of food safety requirements. It is free of any hazardous chemicals. So baking potatoes with foil is safe. Plus, alu foil BBQ keeps your BBQ soft and moist while it's cooking.

Aluminum foil is used as food packaging, so that the packaging is completely insulated from outside light, moisture and gases, so that the packaging especially cooked food packaging is completely protected. Using this potato composite foil will keep the food from rotting for at least a year. And heating and unpacking is very convenient, popular with consumers.

All these international markets require modern packaging and decoration to promote competition. People have developed good protective performance of plastic films, spray sheets and other packaging materials to meet market demand, but their comprehensive performance is not as good as repainting and composite processing. Therefore, it can be said that the Silver Aluminum Foil Jumbo Roll 8011 is a perfect packaging material, thus fully showing its potential for widespread application in many fields.

To improve the efficiency and quality of alumiunum foil rolling, modern foil rolling mills have evolved in four directions: larger rolls, wider widths, higher speeds and automation. Modern aluminum paper mills have roll widths of more than 2200 mm, rolling speeds of more than 2000 m/min, and roll weights of more than 20 tons. The level of automation of the rolling mill has also been greatly improved. Typically, a thickness control (AGC) system and a multi-mount form gauge (AFC) are installed. The potato foil industry is experiencing a period of rapid development.We can manufacture aluminum foil rolls for home use and also sell kitchen potato foil rolls.
Domestic Food Grade Aluminum foil Aluminum capacitor factories and aluminum foil factories will begin a new round of price increases under the three worst-case scenarios of rising aluminum prices, rising transportation costs and rising electricity prices in mainland China.

We produce food grade aluminum foil jumbo rolls, do not use cooking spices or lemon when using baking paper, so that acidic substances like metal foil, aluminum foil etc. remove metal deposits, which can be later absorbed by the body in food contamination. Aluminum can be irritating to the stomach and is even thought to cause dementia. People with kidney disease may experience anemia after consuming too much aluminum. Vegetables are a great option when baking these dishes. Food can be wrapped in green coconut leaves, tamarind leaves or green leaves, which are not dyed and healthy.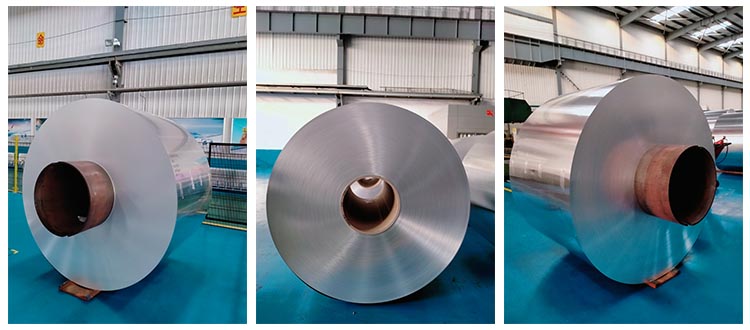 The production line is available 24 hours a day without special circumstances to provide customers with competitive pricing. The factory has a quality inspection department to strictly control the quality of the products produced. It is our pursuit to create reliable quality and satisfied customers. After the customer receives the goods, - the sales staff will follow up in a timely manner to provide perfect after sales service. Production lines are available 24 hours a day to provide competitive pricing to customers without special circumstances. The factory has a quality inspection department to strictly control the quality of the products produced. It is our pursuit to create reliable quality and satisfied customers. Once the customer receives the goods, our after sales staff will follow up in a timely manner to provide perfect after sales service.