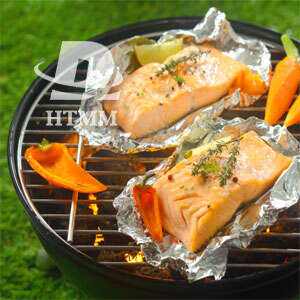 With the development of society and technology, people's lives are gradually becoming more diversified, so food packaging is also showing a trend of diversification. With the increasing variety of packaging materials, it is necessary to pay attention to and improve the safety of

food packaging materials

. Food packaging materials refer to products used for packaging, containing food or food additives, and coatings that directly contact food or food additives.

We may encounter many problems when using aluminum foil, but we will find that when using aluminum foil, we will rarely use it alone, because it will be easily damaged, and we mostly use aluminum foil and plastic film together,and

Aluminium Foil Rolls Jumbo 8011

is a commonly used packaging material. It is also used in the packaging of our coffee and tea as well as many snacks.

As a manufacturer with more than ten years of production experience, HTMM is looking forward to establishing a long-term cooperative relationship with our customers. We can guarantee product quality and delivery time, and we have a perfect after-sales service team. From your purchase to confirmation of receipt We will provide you with the most complete shopping protection before. If you have any questions about our products or other aspects, you are very welcome to contact us through our official website.