The Lidding Foil is used as a lid on plastic cups and containers which not only provides perfect closure to the cup but makes it pilfer proof and provides protection from external influences. The low permeation properties of the foil to water vapor and oxygen ensures the required shelf life. The heat seal lacquer used in lidding foil can be made sealable to different cup/jar substrates such as PET, PP, PS, HDPE and PVC. Lidding foil with a universal coating which can seal with multiple substrates is also available.
Sealing Liner for plastic and glass bottle. Two piece seal liner and one piece
aluminum foil
and die cut pieces aluminum foil are widely used in the new packaging, not only improve the upgrade of products, prevent moisture, extend the shelf life, also to strengthen the security performance, Aluminium foil is the first choice in packaging industry.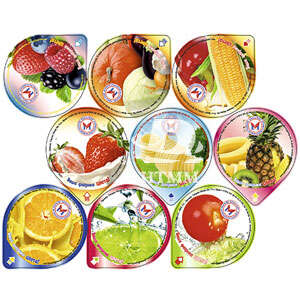 The
aluminum foil raw materials
come from HTMM suppliers,make sure products can conform eligible animalcule and pinhole limit.
Excellent sealing strength can seal with PVC, PVC/PVDC, PET, PP, PE,alu alu foil and tropical blister foil.
Primer systems for online and offline printing, easy printing for water-base and UV inks.
Perfect printing, no fading after sealing,
According to customer needs, single side, double sides printing make better propaganda effect.
Sealing at low temperature, good for medicine and high speed processing.
High barrier against moisture, oxygen, other gases, light and UV lights.