COLD FORMING BLISTER FOIL is one product dedicated to pharmaceutical industry manufactured by sandwiching aluminum foil between nylon (oPA) and PVC films using dry bond lamination technology. As blisters are formed in this Nylon / Foil / PVC film laminate by pressing laminate into a mould by a stamp without applying heat, the material is called cold forming blister laminate.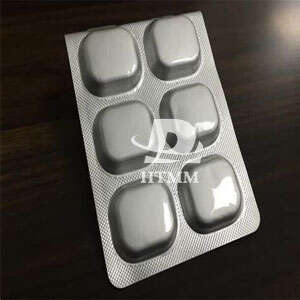 The laminate offers a near complete barrier for water and oxygen thereby allowing an extended product expiry date due to higher thickness of the foil present in the laminate. The PVC film in alu-alu laminate is commonly used as the contact layer and seal to layer on pharmaceutical blister (as neutral layer for the goods to be filled). PVC is very stiff and does not tend to shrink or spring during cold forming. Once the cold forming process is complete, the PVC helps the cavity hold its shape. In short it ensures the geometric stability after cold forming. The nylon (oPA) film is mainly responsible for the multi-axial forming. Laminating the aluminum with the oPA film doubles the formability of the foil.
Strip packs made from
laminated aluminium foil
and push- through packs made from shaped plastic film with a seal- ing aluminium layer are indispensable commercially as blister packs for tablets and pills.
After the composite, printing, after coating a wide range of applications in all kinds of pharmaceutical capsules, tablets, granules packaging.
HTMM is a professional aluminium foil roll manufacturer and exporter. It supplies
aluminium foil for food packaging
, medicinal aluminum foil roll, aluminum foil rolls for lithium ion battery, a
ir conditioning foil, cable foil
, container foil and other products. offering stable quality and favorable price. Welcome to contact us.