An aluminum foil about 0.006 mm thick with the ISO specified upper limit of 0.2 mm (200 µm). This is done by rolling hot ingots (hot rolling) into coils between 2 and 4 mm in thickness. The coils are then successively cold rolled to the desired foil thickness. The second step is foil rolling, continuous casting, which bypasses the ingot stage and transforms the molten metal into a thick strip that slides directly onto the foil rolling coil.

To obtain very thin wafers, the two layers are rolled at once. This "double roll" results in a difference between the two surfaces - matte and polished - with the matte side on the inner side of the double roll. Two layers of alu foil are then separated.Alloy 8011 is a typical alloy for alu foil and it is the most used metal today in our daily life. HTMM specializes in household foil, container foil, packaging foil and pharmaceutical foil business. 8011 Aluminum Foil has various thicknesses, widths and mill finishes with a bright side and matte side. Aluminum alloy 8011 is now the most commonly used metal in our daily lives.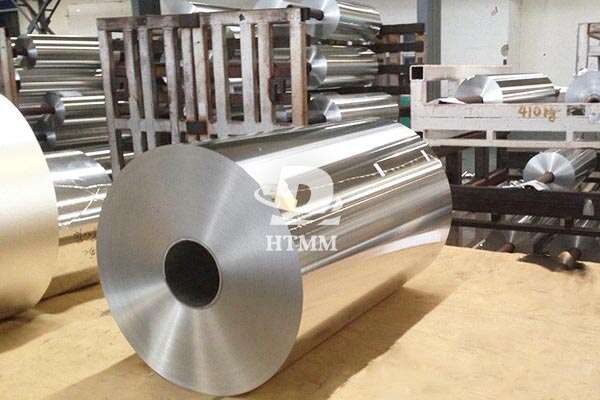 How is aluminum foil made?
Aluminum foil is manufactured from bearing foil ingots made from cast billet aluminum, then rolled again in a foil metal and foil metal rolling mill to the desired thickness, or by continuous casting and cold rolling.For an aluminum foil thickness, beta radiation passes through the foil to the sensor on the other side. If the intensity becomes too high, the rolls are adjusted until the thickness increases. The rolls of aluminum foil are cut into smaller rolls on the wrapping machines. Cutting and rolling the roll is an important part of the finishing process.


If you're not sure what to do
Extreme care is taken to avoid any damage that may occur during storage or transport. Standard export packaging, wrapped in plastic film or craft paper. The wooden box or wooden pallet is removed to prevent damage to the goods during transport. Clear labels are also printed on the outside of packages for easy product identification and quality information.

Currently, brands and retailers offer daily coffee and tea in individual and family packages. At work, in restaurants and distribution points "on the go" every moment is busy. This versatility, coupled with the need to protect the product, has led to the development of many 6 Micron Aluminum Foil products.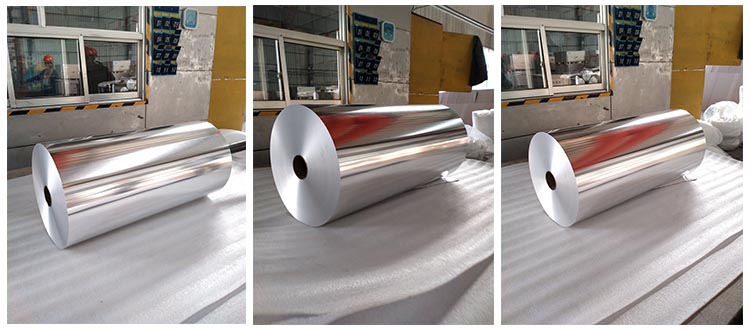 Aluminum alloy 8079 foil and 1235 Aluminum Foil are the most commonly used in smoking slots, and both have many uses in flexible packaging. 1235 Aluminum Foil Jumbo Roll For Cigarettes also known as foil smoker, is double zero foil 12 -O/8079-O flexible packing foil.
Anti-corrosion, waterproofing, gloss and heat resistance, all used in flexible packaging. Tobacco paper specifications are: 1235O, 8079O, thickness 0.0058-0.0075mm, width 200-1880mm, outside diameter 400-1000mm, inside diameter 75/76mm.
Product

Grade

Temper

Thickness




mm

Width




mm

Surface

Double Zero Foil

1235 1145




8011 8079

H18 O

0.006-0.009

200-1700

One side bright

Household Foil

1235 8011




1145

O

0.009-0.02

200-1700

One side bright

Pharmacy Foil

1235 8011

H18

0.009-0.03

200-1700

One side bright

Container Foil

3003 8011




8021

H22 H24 O

0.04-0.2

200-1700

Two sides bright

Beer Mark Foil

1235 8011

O

0.009-0.011

200-1700

One side bright

Air Conditioner Foil

3102 8011




8006

O H22 H24

0.08-0.15

200-1700

Two sides bright

Food Soft Packing Foil

8011 1235




1145

O

0.009-0.023

200-1700

One side bright
Cigar aluminum leaf top unmarked smooth, plate face flat, and hand holes minimal. Cigarette aluminum foil is mainly used as the lining paper of the cigarette case covered with paper. Due to the rapid development of other industries, the percentage of packaging of smoked tin foil is decreasing year by year.
Due to the excellent compatibility of the aluminum foil roll with the heat insulator, combined with its excellent thermal conductivity and stability, aluminum foil is an ideal packaging and insulation material for medical, food and beverage products.

The 6 Micron Aluminum Foil 1235 Alloy is very clean. Any bacteria or microorganisms cannot grow and multiply on the surface of the aluminum foil and will not produce a peculiar smell. Aluminum foil is resistant to corrosion, oxidation, acid hydrolysis and will not be harmful to the environment.

Example 6 Micron Aluminum Foil 1235 Alloy:

1) The box is still available.
2) Different groups can be created
(3) Our company specializes in the production of aluminum products. We have skilled staff and complete production lines. We can provide good quality products at competitive price.
4) You are welcome to contact us for business assistance

HTMM aluminum foil company is a new integrated company specializing in the R&D, manufacture and sale of aluminum foil products. Main products include aluminum foil, aluminum foil air duct, industrial aluminum foil, aluminum foil rolls, large aluminum foil, aluminum foil packaging, etc. Our manufacturing plant is a ch 'aman industrial capacity.

Alu leaf rolls and foils come in different thicknesses, widths and lengths. The manufacturers make it easy to find the width and length of the foil roll, but the thickness of the foil is not reported. Most manufacturers use terms such as standard duty, heavy duty and extra-heavy to describe foil thickness. Getting the actual thickness from the box foil and the manufacturer's website is unlikely.

Let's take a look at some of the common Microns of Aluminum Foil Thickness and the best way to measure the thickness of the foil if you can't tell from the manufacturer. Understanding how the alu foil is measured is the first step in finding the thickness of the foil. Knowing the measurement increment will help determine the thickness once it is taken.

Standard Alu Leaf - Most standard alu leaf rolls are expensive commercial and home use leaf alu rolls. Standard foil rolls for home use are 75 ft. long. as well as 250 ft. in length. length, offered in varying widths. Most rolls of foil rated "Standard Duty" are between 0.0004 and 0.0007 thick. It's ideally a little bigger or half a mil thicker.

Some users need a smaller flexible foil for a variety of domestic uses and commercial needs. Most standard or economy foils are more affordable than heavy or extra heavy foil. Some users don't like standard foils because they tear easily during firing.

When HTMM started in 2009, our mission was to produce the best aluminum foil roll products on the market. Never compromising on quality and always providing exceptional value to our customers, we have remained the top product choice for so many commercial kitchens. We understand how important it is for your institutional food business to run as productively as possible. Our products will save time for your staff as they work to meet the production demands of your food operation.