Every year, Santa, one of the greatest signs of Christmas, remakes one of the most traditional gifts from chocolate. This can be achieved not only by the chocolate making process, but also by the sparkling aluminum foil that decorates and protects them.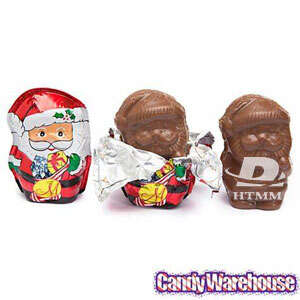 Throughout Europe, more than 156 million Santas shone on shelves last season. It is estimated that the surface area of ​​the
aluminum foil used to wrap
all Santas produced in Europe is now close to 4 million square meters, so it can completely cover several Major cities!
In these highly environmentally friendly times, it should also be noted that Santa's wrapping paper can be completely recycled. At present, the recycling rate of German aluminum packaging has been much higher than 87%, and I am very happy to know that there are Santa Claus who is sustainable and the most delicious Christmas gifts.
Although most of the images depict a good-looking, dignified man with a lot of white beards, thanks to modern foil printing techniques, Santa can be seen in his local cultural form.
Throughout Europe, the image of Christmas Father can be copied and can be seen in his local expressions. But, of course, thanks to the glossy surface of the
aluminum foil,
he is always bright and sparkling, full of Christmas miracles!
The careful work of protecting the position of Santa Claus on the chimney and under the Christmas tree is an important reason why aluminum foil has become an ideal choice for its packaging. Thanks to the barrier properties of aluminum foil, he is protected from dust, light, moisture and external odor Effect, and it can be very tightly fitted to ensure that the barrier layer is effective.
Happy Christmas to my friends in advance!