In recent years, China's aluminum foil industry has developed rapidly, and has introduced modern aluminum foil production technologies and equipment. China's aluminum foil industry has begun to integrate with the international market and gradually occupy a place in the world's aluminum foil market. In general, the installed level of
China's aluminum foil
industry is not much different from that of foreign developed countries, but there is a considerable distance in terms of product quality indicators and rolling technology levels. At present, the thin aluminum foil market with a thickness of less than 0.006mm is showing strong sales and has a bright future. However, to produce high-quality double-sheet aluminum foil, to achieve a quality level of good flatness, uniform surface, few pinholes, and small thickness deviations, it is necessary to conduct research on billet quality, rolling process and equipment, operating technology, and management mechanism. And innovation.
Plate type automatic control system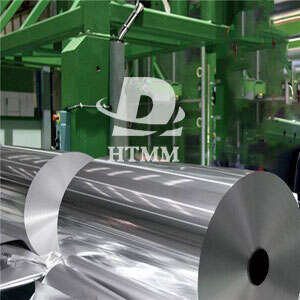 The new automatic control technology of plate type AFC is popularizing finish rolling mills in
aluminum foil
, and it has become an indispensable equipment in modern high-speed rolling mills. ABB's stressmeter stress meter system [9], featuring high-sensitivity plate rolls (Φ200 or 303mm), can detect the flatness of 2 × 0.005mm aluminum foil at 3000m / min. The quadruple aluminum foil mill of Italy's Comital company is equipped with ABB stress gauge flatness control system. After the rolling speed is up to 1500m / min, the recorded flatness deviation is between 8 and 10 I.
Diverse control methods
The advantages of DSR (Dynamic Shaperoll) technology over VC and CVC technology have shown a strong development momentum; while HES (Hot Edge Sparays) will compensate for the temperature drop at the edge of the strip and provide a new method of plate shape control technology.