Most middle and high-end cigarettes use gold card packaging. Gold card aluminum foil packaging is a composite product of aluminum foil and gold cardboard. Gold card packaging not only has inherent moisture-proof and fresh-keeping functions, but also has a beautiful and luxurious appearance, which greatly enhances the product grade. In 2016, China's aluminum foil consumption was 3.34 million tons, of which cigarette pack foil accounted for 54.1% of the total aluminum foil consumption, while the corresponding products in the United States accounted for 75% and Europe's 90%, which indicates that China still has application in packaging aluminum foil Great development potential.
Aluminum foil for cigarette packaging
is the main body of double zero aluminum foil consumption. Double zero aluminum foil is one of the aluminum products with the strictest quality requirements and one of the most technically demanding aluminum products.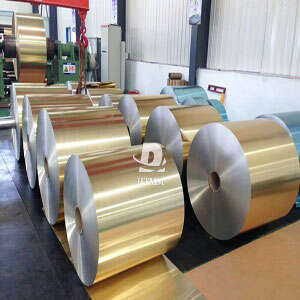 https://www.htmmalufoil.com/products/flexible-packaging-aluminium-foil/cigarette-packing-aluminium-foil.html
The rolling of double-sheet aluminum foil (that is, double-rolled aluminum foil) represents the ultimate thickness that can be achieved by rolling technology, and is the concentrated embodiment of the highest level of rolling technology. At present, ultra-thin aluminum foil with a thickness of 0.005mm or even 0.0045mm has been developed at home and abroad, and the thickness tolerance is generally within ± 2 ~ 3%. The minimum thickness of aluminum foil produced by domestic advanced level manufacturers can reach 0.005 ~ 0.006mm, and the thickness tolerance can reach ± ​​5%. The product specifications of high quality double sheet aluminum foil are shown below.
Thinnest thickness of aluminum foil / mm: 0.00450.006mm. Aluminum foil yield rate /%: ≥850.006mm aluminum foil thickness tolerance /%: ± 2 ~ 3% 0.006mm aluminum foil pinholes / piece • m-2: 30 ~ 50 times of breaking of aluminum foil per large roll: ≤1 coarse Maximum practical rolling speed of rolling mill / m • min-1: ≥1500 practical rolling speed of double rolling / m • min-1: 600 ~ 750