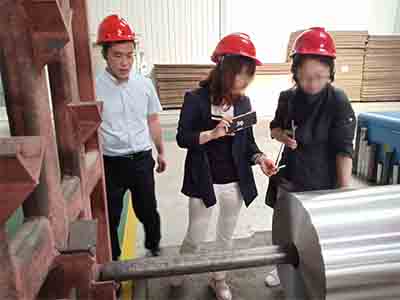 HTMM is a leading aluminum foil supplier in China, committed to providing customers with the fastest quotation of aluminum foil products that meet industry standard specifications and customer requirements, the highest quality products, the most competitive prices and the fastest delivery speed. Our goal is to satisfy customers with high-quality products, and our guarantee is assured engineering safety quality.

Customers from South Korea visited our 1235 double zero aluminum foil production process. Sales manager Ms Ginger and workshop head led them to visit the factory. Our monthly production capacity is 20,000 tons. Ms Ginger also showed our 1235 Aluminum foil samples to customers.

The specifications of 1235 aluminum foil required by customers are: 0.006mm thickness, width: 900mm-1380mm. Used for flexible packaging. After confirming our product quality and supply capacity, we discussed the details of the contract and signed the supply contract.
Then, the customer expressed the hope that we have more other cooperation products.

1235 Double zero aluminum foil is one of the advantages of HTMM. The quality of double zero aluminum foil is very high for the factory. Double zero aluminum foil is generally a packaging material compounded with other materials, and the requirements for pinholes are very strict. The quality of 1235 double-zero aluminum foil produced by HTMM has passed SGS and ISO certification. If you have any demand for 1235 double zero aluminum foil, please contact with us. your inquire will get our prompt attention.