Aluminum Foil Jumbo Roll Industry Data
According to industry reports, the price of a aluminum foil jumbo roll of domestic 8011 aluminum foil jumbo roll , which is one of the most commonly used sizes weighing around 250 square meters, has seen significant volatility over the past year.8011 aluminum foil jumbo roll are typically sold in boxes of 100 rolls and are primarily purchased by households, restaurants and food manufacturers for various cooking and packaging applications.

However, from the beginning of 2022, aluminum ingot prices began to rise rapidly due to a combination of factors affecting global commodity markets. Russia's invasion of Ukraine exacerbated ongoing supply chain issues, while energy prices rose, straining producers. This pushed aluminum ingot to cost higher in producers' margins.
| | |
| --- | --- |
| Brand Name | HTMM Aluminum Foil |
| Material | 8011 |
| Temper | 0 |
| Thickness | 0.008-0.04 mm |
| Width | 275mm 280mm 285mm 290mm 300mm 440mm 450mm 600mm |
| Coil ID | 76、152 mm |
| Coil Weight | 350-500 kg |
| MOQ | 5 ton |
| Payment | 30% deposit in advance,the balance against B/L copy. 100% irrevocable L/C |
Faced with rising aluminum costs, the two largest US producers Reynolds Consumer Products and Hyundai Aluminum raised the wholesale prices of 8011 paper rolls by 15-18% over the past 8 months. The increases were intended to recoup some of the extra $2-3 per pound incurred in 8011

Household aluminum foil

jumbo rollcosts compared to 2021 levels. Other suppliers followed suit to maintain competitiveness. By May, the average case price had risen to over $60 reflecting wholesale growth.

At the same time, demand for aluminum foil jumbo roll remained strong supported by continued growth in the food packaging and foodservice industries, even as rapid inflation began to reduce consumer spending power for other products. Tight market conditions supported price protection by producers, despite the hit to consumers. Retailers had no choice but to pass on the higher wholesale prices to the shopping aisle shelves.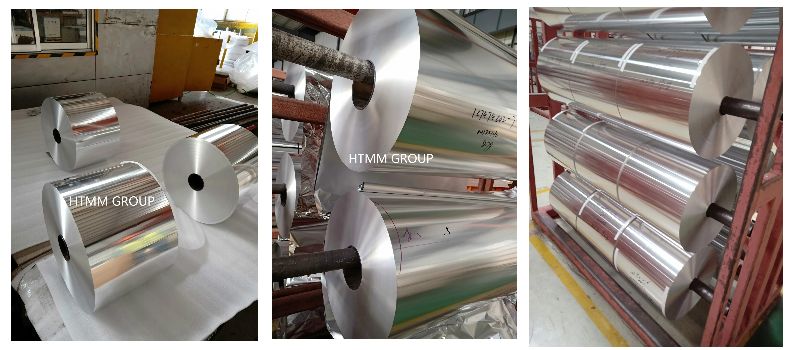 During the summer, a supply constraint also emerged as new capacity expansions took time to come online amid labor constraints and long commissioning periods. This allowed suppliers to apply small additional price increases of 3-5% to some contract customers. With consumer price elasticity weakening, the moves went largely unchallenged while maintaining a stable overall order pipeline.

However, in the autumn there were signs that inflation was taking a deeper economic toll. Retail sales growth slowed as cautious households increasingly opted for store brands and larger package sizes over aluminum foil jumbo roll that entail higher handling costs. Wholesale price negotiations became tougher with some small distributors and dollar stores asking for returns.

As a result, major producers reluctantly agreed to waive about 5% of last year's cumulative price increase of 18% for 8011 Household aluminum foil jumbo roll of foil metal. The move aims to woo back volume-sensitive customers without fully restoring prices to pre-2022 levels, but given ongoing headwinds. With global commodity and energy markets remaining turbulent, further fluctuations in the retail price of standard 8011 aluminum alloy coils are expected to continue into 2023.

Aluminum foil is continuously laminated and rolled on a central core to create large rolls for storage, transport and distribution. The base material plays an important role in the winding process and the structural support of the foil roll. It should be strong enough to support the weight of many layers of thin aluminum foil wrapped tightly around it, but still easy to handle. It must also resist breakage or deformation during the stress of wrapping or during stacking in storage.

For these reasons, steel is commonly used as the base material for aluminum foil rolls. steel provides an affordable, renewable and sustainable substrate that meets the necessary specifications. It is molded into a hollow tube to allow mounting in the dispensers of winding and unwinding machines. The steel core allows for smooth, tight and gap-free wrapping of the aluminum foil jumbo roll around it to produce a well-packaged end product.
Aluminum Foil Jumbo Roll Packaging and Shipping

1.SEAWORTHY EXPORT STANDARD FREE-FUMIGATED WOODEN BOXES.
2.Each wooden box weight from 0.5MT-1MT,upto customer's request.
3. Standard export worthy packing.
4. Carton box or wooden box, or waterproof paper, or according to customer's request.
5. 15-20MT can be loaded in 20ft container and 25-27MT can be loaded in 40ft container.
6. For 20 ft container the maximum length is 5.8 m, for 40 ft container the maximum length is 11.8 m.



Food grade alu foil has a higher thickness compared to other alu foils. It is a durable alu foil. It can withstand wear and tear. Due to its high tear and puncture resistance, it is the best cover for foil steamer table pans, as the pans bend when carried.
Aluminum Foil Jumbo Roll Advantage
Heavy-duty grill alu foil is a stronger, thicker foil that's perfect for grilling that requires high-quality performance. Heavy duty handles even the heartiest of meals with ease. Commercial grade alu foil is best for lining baking pans, grilling meats, and protecting from extreme heat or cold.With the HTMM heavy-duty Food Grade Foil Aluminum, you can prepare safe foil packages for light and tasty snacks.You can wrap leftovers in heavy duty foil to keep them fresh. Heavy alu foil paper is characterized by higher tensile strength and elasticity. This is why it is suitable for extreme household use. Commercial alu foil roll also provides better coverage and heat retention. Withstanding high heat and better coverage, the foil roll helps lock in flavor and keep food moist.



Heavy duty food grade alu foil is clean and food safe. It has passed all the tests of food safety requirements. It is free from any hazardous chemicals. So baking with alu foil is safe. Additionally, alu foil BBQ keeps your BBQ tender and moist as it cooks.Heavy duty HTMM household aluminum foil jumbo roll , made in China, provides extra protection against high heat and cold. Our heavy foil is perfect for grilling, covering or lining large baking pans or making larger foil packets

Aluminum Foil Jumbo Roll Price

Calculating



Calculating aluminum foil jumbo roll price involves considering various factors that contribute to its production costs and market dynamics. aluminum foil jumbo roll price is influenced by factors such as raw material costs, manufacturing expenses, market demand and supply, and external factors like trade policies and currency exchange rates.
Aluminum foil storage
Protect from ventilation, moisture, dust, sun, mold, rust and liquids. The distance between the packaging and the wall is about 100 mm.