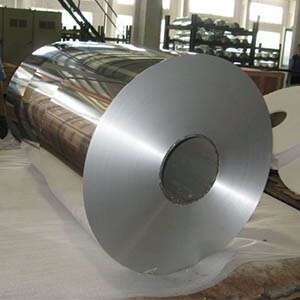 8011 Aluminium foil is aluminium prepared in thin metal leaves with a thickness less than 0.2 mm; thinner gauges down to 6 micrometres are also commonly used.Standard household foil is typically 0.01-0.018 mm thick.The foil is pliable, and can be readily bent or wrapped around objects. Thin foils are fragile and are sometimes laminated to other materials such as plastics or paper to make them more useful.

8011 Aluminium foil is produced by rolling sheet ingots cast from molten billet aluminium, then re-rolling on sheet and foil rolling mills to the desired thickness, or by continuously casting and cold rolling. To maintain a constant thickness in aluminium foil production, beta radiation is passed through the foil to a sensor on the other side. If the intensity becomes too high, then the rollers adjust, increasing the thickness. If the intensities become too low and the foil has become too thick, the rollers apply more pressure, causing the foil to be made thinner.

Due to perfect anti-moister, anti-pollution and electrical conductor characteristics with blare feature, the 8011 aluminum foil has been available for packing field, capacitor making field, construction field, ornament field, printing field and household packing, the main products of HTMM company as follows: cigarette foil, golden foil paper, food foil, capacitor foil, medical foil, beer foil, housing foil and soft packing foil for aluminum foil manufacturer.