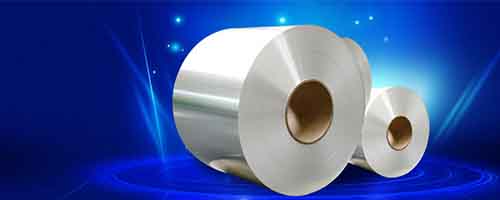 Aluminum foil is widely used in the civilian and industrial fields, such as our daily heating lunch boxes, aluminum foil paper for perm, plastic wrap for household use, milk packaging, and tobacco packaging. In addition to civilian use, the industry is also heavily using aluminum foil products. For example, aluminum foil is used for the insulation material of the pipes in the air conditioners we use in hotels, for example, aluminum foil is used for ultra-high voltage wires. Military use is also very wide, vector power direction wires used on drones in military industry. In addition to aluminum foil used in lithium batteries, there are also super capacitors also use aluminum foil. It is very versatile.

HTMM has strong technical research and development capabilities. It was the earliest in China to directly use electrolytic aluminum liquid and adopt the casting and rolling process to produce double zero foil billets. It is also one of the few aluminum foil processing companies in China that can produce 0.0045mm double zero aluminum foil on a large scale. At present, the company has developed a new alloy based on 1235 alloy. The new 1235 alloy product has lower Fe content, higher aluminum content, but higher tensile strength to better cope with the lithium battery during the charge and discharge process. There is a change in thickness. Among them, the lithium battery microcrystalline and nanocrystalline processing technology has been recognized by BYD and other well-known companies, has begun to enter the trial production stage, and is expected to achieve large-scale production and sales by the end of this year.

China is currently the world's largest producer. The entire aluminum foil industry is divided into many types. For products below 6 microns, our export volume is around 200,000 tons. Global demand is around 600,000 tons, but China's output has reached 600,000 tons per year, and competition is still fierce. In the high-end market, our country still needs to import. The annual import volume is more than 50,000 tons. Especially in some high-tech industries, the import volume of aluminum foil in our country is still relatively large, including aluminum foil for lithium batteries. such. The coating materials for flexible lithium batteries, especially composite materials, are mainly produced in Japan. There are technical problems as well as equipment problems. There are enterprises in our country that are producing, but from the level of precision and consistency of quality requirements, they have not reached the requirements.

For the overall aluminum foil industry, there is still excess capacity, which is the same as the reality facing other industries in our country. Our country is now facing a structural imbalance, that is, a surplus of low-end products, while high-end products are controlled by foreign products. HTMM is to make high-end products, to replace imported products, and to target high-end markets.

HTMM produces and supplies double zero aluminum foil. The thickness is usually 0.0045mm to 0.009mm. Double zero aluminum foil has the advantages of impermeability, heat resistance, humidity resistance, light resistance, high temperature sterilization and so on. It is widely used in the packaging industry. With its advantages in technology and services, HTMM has won extensive business cooperation and established a good reputation. Since its establishment, HTMM is mainly engaged in the production and sales of double zero aluminum foil, aluminum foil blanks, various alloy products and aluminum products, as well as the research and development, application and technical consulting services of new products. Products are applied to food, chemical, light industry, transportation, energy, home appliances, packaging and decoration.