8011 aluminum foil is the final solution for packaging efficiency
8011 aluminum foil has been used as a history of more than 100 years and proves that it is an effective and effective solution. Packing aluminum foil is unlimited recyclable, lightweight, cost -effective, and provides excellent protection and preservation for food. With the continued development of packaging demand, aluminum foil 8011 has adapted to new needs for strength, durability and functions.

(1) 8011 aluminum foil is easy to efficiency
Packing aluminum foil 8011 is very light due to its thinness. Therefore, the packaging company can greatly reduce the weight of its packaging, which is transformed into lower transportation costs. Compared with other packaging options, the cost of 8011 aluminum foil 20 microns is relatively low. This combines its durability and longevity to make it a cost -effective packaging material.
(2) 8011 aluminum foil provides excellent barrier characteristics
8011 aluminum foil is very effective in blocking water, oxygen, and light energy -all of them can cause product deterioration. This obstacle can ensure that the products packaged in aluminum foil remain longer life. Aluminum foil packaging is usually used for chocolate, coffee, medicine, dry goods and smoked meat.
(3) 8011 aluminum foil durable and environmentally friendly
8011 alumin
i
um foil is 100 % recyclable, which can be recycled indefinitely without losing quality or characteristics. Compared with new aluminum, regeneration aluminum only requires 5 % energy. Recycling aluminum foil eliminates it outside the garbage landfill and helps reduce carbon emissions in the production of new materials. Now, the packaging kit provided by many manufacturers is made of recyclable aluminum with high proportion.
(4) 8011 aluminum foil high durability and versatility
8011 alumin
i
um foil
is an inherent solid and durable material. It is torn and anti -puncture, but it is still flexible enough to meet the shape of the packaging products. Even with multiple uses, its barrier characteristics remain stable. The versatility of aluminum foil 8011 can also form different shapes and sizes to meet different packaging needs.
Aluminum foil suppliers
can print and relief foil to provide product information and graphics.
(5) 8011 aluminum foil can keep the product longer
As mentioned earlier, 8011 alumin
i
um foil packaging foods are very effective in blocking light, moisture, oxygen and odor -all these can cause product degradation. This sealing barrier can reduce chemical changes to the greatest extent, oxidation and condensation to make aluminum foil packaging products more fresh. Aluminum foil 8011 is usually used in packed items that are easy to rot, such as coffee, spices, snacks, candy, baked goods and fresh meat.
(6) 8011 aluminum foil is easy to open and re -seal
Most aluminum foil rolls can be easily opened by simply tearing off the foil paper. Some aluminum foil suppliers add tabs or points to clean and control tears. After opening, you can also use functional functions (such as bonding strips, zippers or flipping top lids) to seal many foil kits to keep the product fresh after the first opening. This re -sealing makes consumers more flexible by using and storing foil packaging products.
(7) 8011 aluminum foil excellent printed and customized
The smoothness of aluminum foil 8011, reflective surface is product information, brands and advertisements with high -quality printing and canvas. The simulation printing method and modern digital printing technology can be used on aluminum foil. Aluminum foil suppliers can print batch code, expiration date and nutritional information and other details to define the foil packaging on a single component. Various foil treatment can be used to enhance printed, durability and aesthetics.
All in all, in terms of efficient, durable and sustainable solutions, 8011 aluminum foil can almost check each box. The high barrier characteristics of 8011 aluminum foil help to maintain the freshness of the product, and its lightweight and cost -effective properties benefit the supply chain. The endless recycling, multifunctional, printed and easy -to -open and analytical functions of this material make it a long -term solution for companies that are continuously developed by browsing packaging efficiency. With the continuous changes in consumer preferences and sustainability goals, aluminum foil in Kansas is adaptability and is still the final solution.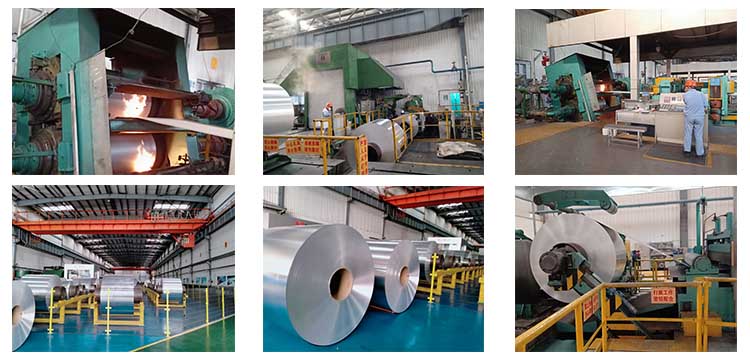 Here are some key factors to determine the high quality 8011 aluminum foil:
8011 aluminum foil thickness
The thickness of the aluminum foil is measured with volume, and the lower quantity scores represent a thick plate. Heavy metals are usually within the range of 8 to 12, while the standard household sheet metal is about 18 to 20. The thicker plate will provide better durability, barrier performance and heat resistance. Therefore, for wrapping meat or packaging lunch, select a thicker 12 to 18 aluminum foil.
8011 aluminum foil soft

temper
The high quality 8011 alumin
i
um foil will have a smooth, even small pit or bumpy surface texture, which can capture food particles or liquid. Highly polished foil can ensure a reliable sealing. If you print or decorate foil, you can better printed. The edge of the paper should also be cut slim, without rough edges or burrs.
8011 aluminum foil purity and composition
Look for 100 % pure aluminum and other additives that may damage its performance. HTMM aluminum foil supplier's pure aluminum foil paper has the best barrier characteristics and resistance to corrosion resistance or degradation. Even a small amount of other metals in aluminum alloy can affect its life and recycling.
8011 aluminum foil

jumbo roll
8011 aluminum foil is usually sold in large rolls, so the scroll itself must be strong and structured to prevent paper tangling and tearing. The enhanced core or tube in the center helps to roll smoothly and uniformly without the edge of the front. This can ensure that you can use as many volumes as possible before you need to replace.
8011 aluminum foil sealing
High quality 8011 aluminum foil should form a strong reliable seal around the food container and beam. When folding or creases without bubbles or gaps, the edges of the aluminum foil cover should be adhered to themselves well. By formulating a sealed and applying pressure to ensure that the tight keys are tightly tested to test different 8011 aluminum foil samples.
8011 aluminum foil printing clarity
If the 8011 aluminum foil paper is printed on it, please check that the printed matter is clear and has no painting or fading, and align well. Printing text and images should have the real color that appears on the surface of paper reflection. Printing good verbs indicates high -quality materials and technologies used in the production process.
Product Name

8011

aluminum foil

Material

8011

Aluminum foil raw materails

Temper

O

Thickness

0.0

08

mm

-0.

2

mm

Width

5

0-1

5

00 mm

Coil ID

76

mm

,152 mm

Coil Weight

80

-

150

kg

MOQ

3 Ton

Delivery time

30

days after 30% T/T payment or receiving L/C copy

Application

Food package,

household use

flexible package,

making food container , flexible duct

etc.
High quality 8011 aluminum foil suppliers in the Middle East market
8011 Aluminum Foil Supplier -HTMM
Choose aluminum foil suppliers from time-tested and reputable brands. Well-known aluminum foil suppliers tend to maintain strict aluminum foil production quality standards and use cutting-edge technology to produce aluminum foil products.

In short, look for aluminum foil made from pure aluminum material that meets your needs, forms a reliable seal, and has a smooth, even texture and print quality - all the hallmarks of foils that provide performance and efficiency for years to come.
Since its establishment, HTMM as a supplier of aluminum foil, has a wealth of export experience and market understanding in the Middle East market. We always insist on delivering high quality products and excellent service to meet every customer's purchasing needs, which also makes us have many loyal customers and good reputation in the region.
In the past few decades, the economy of the Middle East has boomed, and the demand for 8011 aluminum foil has gradually increased. We always maintain a keen insight into the market trend, constantly innovate, and constantly improve the quality and technical content of products to meet the growing customer needs. We are not only a supplier of aluminum foil, but also an evolving technology leader.
HTMM product line is broad and diverse, covering a wide range of different alloys, states, thicknesses, widths and special purpose aluminum foil. Whether it is for food packaging, pharmaceutical packaging, cooking and baking, electronics, building materials or other fields, we can provide products that best suit our customers' needs. HTMM 8011 aluminum foil is precision machined to provide excellent tear resistance, preservation, thermal conductivity and oxidation resistance, ensuring the best customer experience.
In addition to high quality products, we also focus on building long-term partnerships with our customers. We understand that our customers are the key to our success, so we are always customer-centric, actively listening to their needs and feedback, and constantly improving and optimizing our products and services. HTMM Aluminum Foil sales team is in constant communication with our customers to understand their needs and provide timely technical support and solutions. This close cooperation has allowed us to establish a good reputation in the Middle East market and win the trust and respect of our customers.